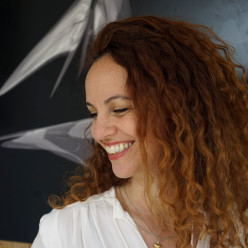 Lila chitayat, a multidisciplinary creator, is an Architect, Designer, New-Media Artist and an experimental practitioner of design through computational processes. Lila is a Senior Lecturer at the Design Faculty of H.I.T Holon Institute of Technology teaching at the Masters program and Interior Design departments. She is the Founder of LinC Studio: a trans-disciplinary design environment involving media and technology to produce a wide range of projects in urban installations, space design, exhibit design and digital architecture for virtual environments worldwide. Her projects include Taxilink (winner of PRIX Ars Electronica 2010), Ideal Virtual Jerusalem for MIC, urban installation 'White Tent City', Augmented Reality exhibition at the Hansen old Hospital and large scaled Museum Installations. Lila received her M.Arch from Columbia University and B.Arch from Pratt Institute along with a b.Des at HIT.
Shderot Chen 2, Tel Aviv, Israel
---
+972.525.494949
lila@lilachitayat.com
---
Would love to hear from you!