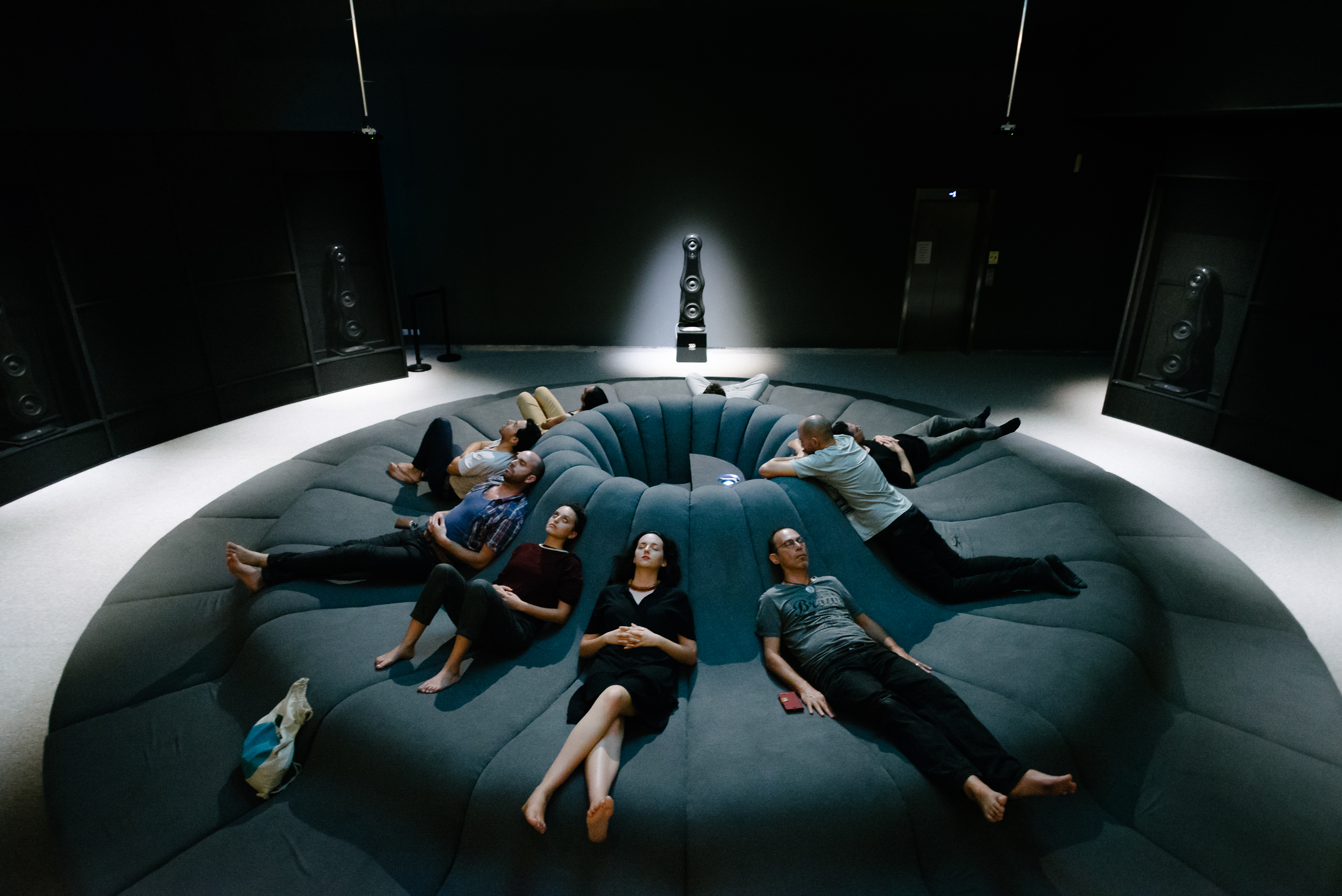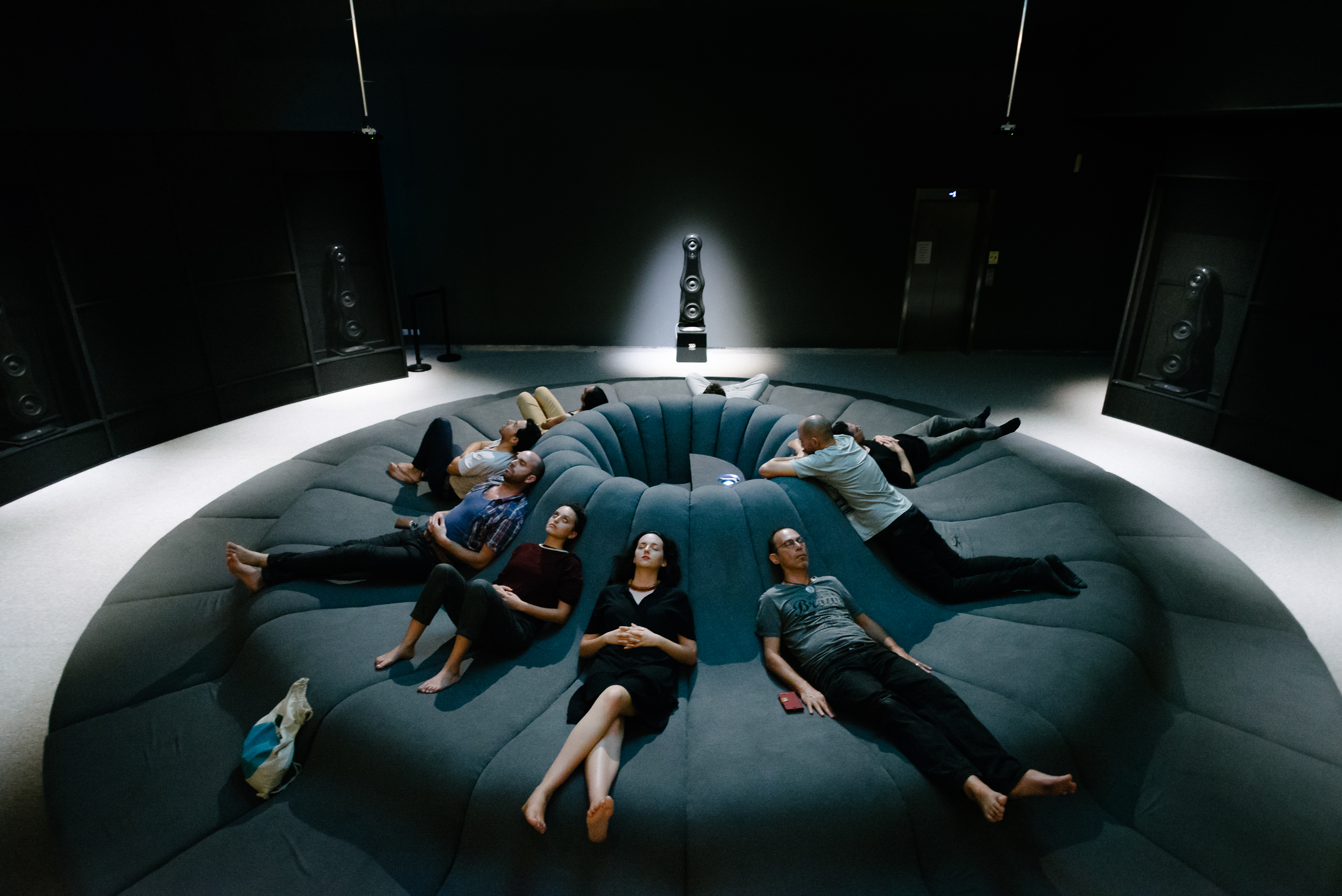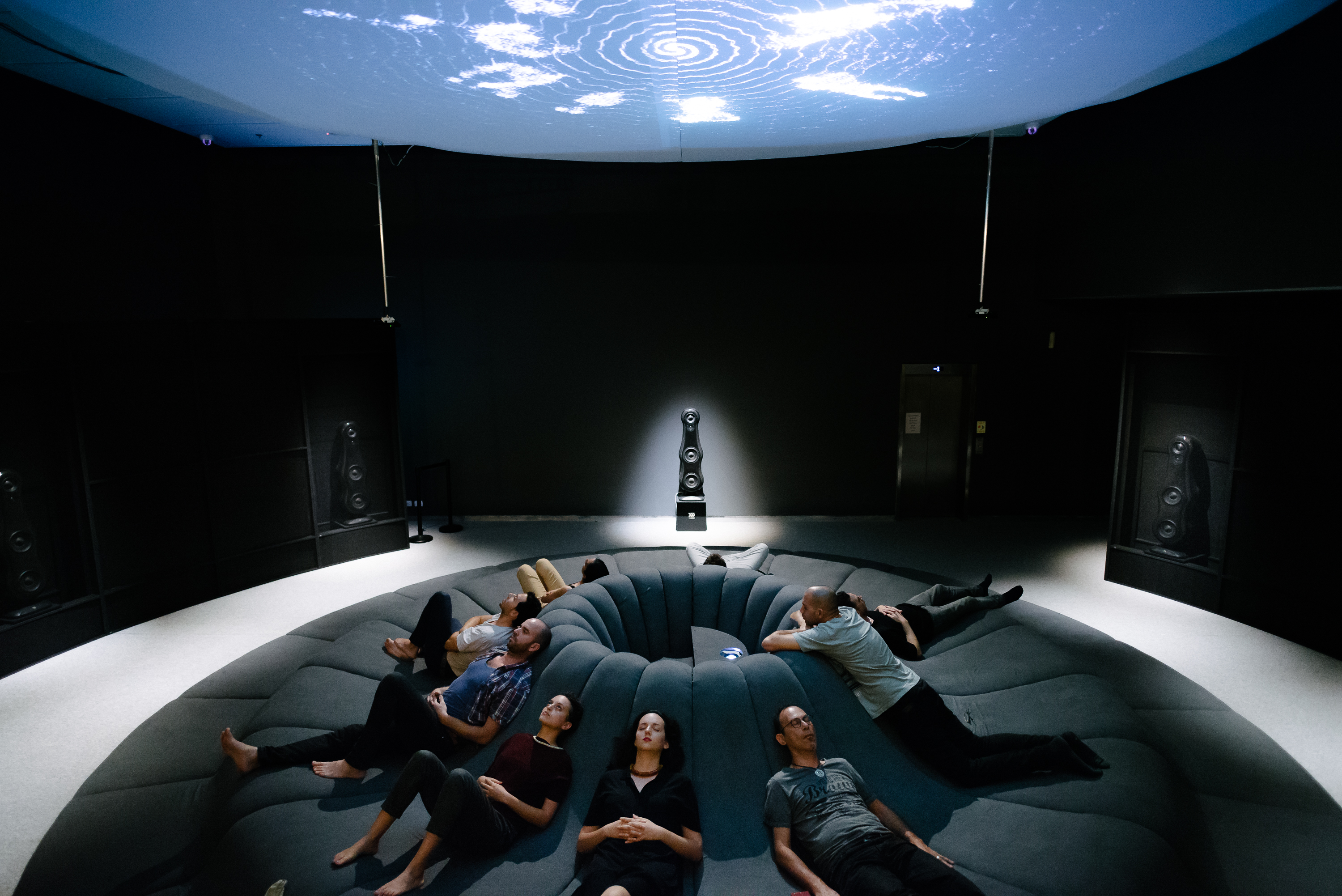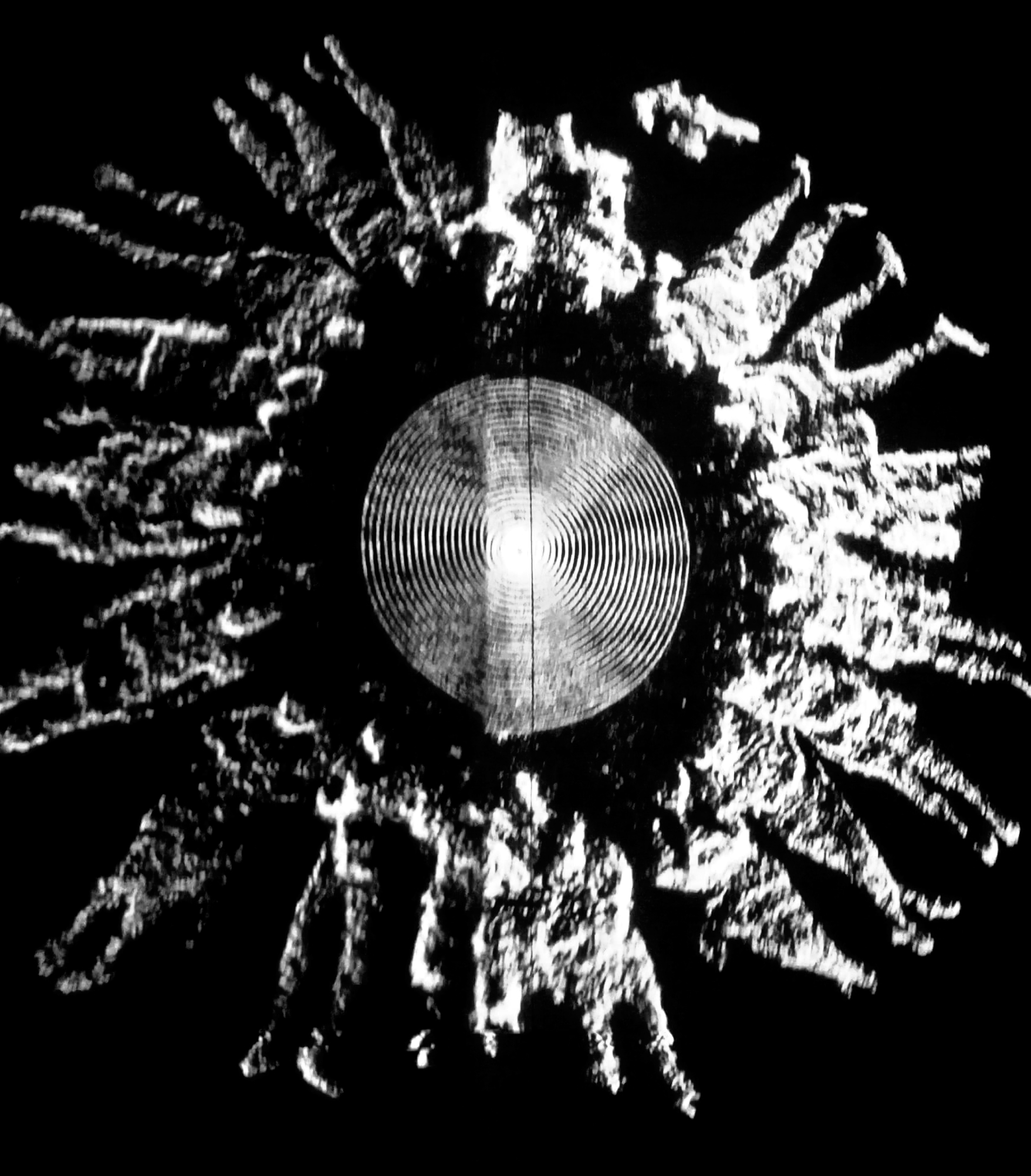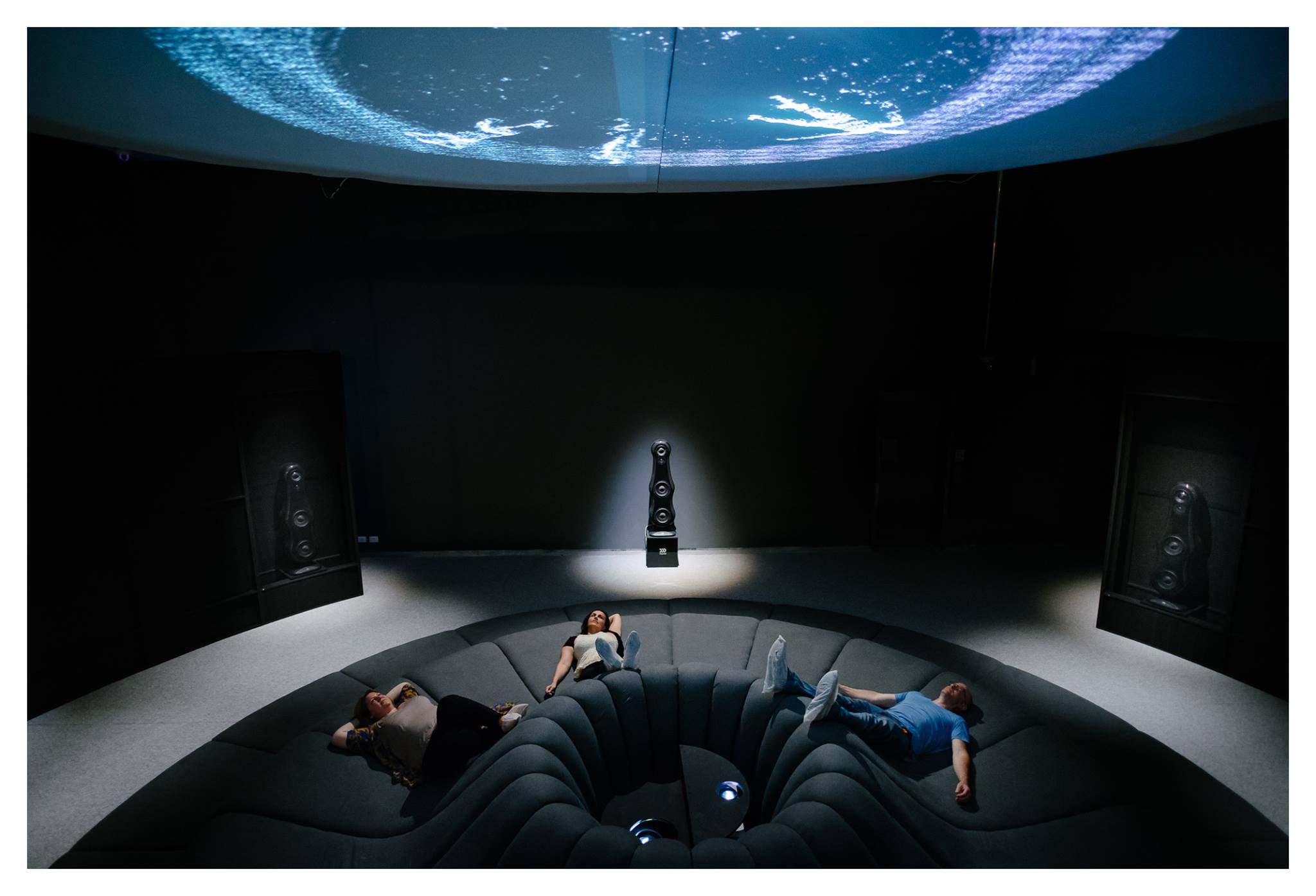 How does a space sound? How do we navigate in the boundaries of of spaces with sound? How can we listen as individuals and see sound collectively?
Sensing Sound is an interactive site specific sound/art installation  of an immerse resonating space. Equipped with an acoustic hill, speakers and split sound channels, the installation sets the ability to feel sound, listen to sound and see sound.  Sensing Sound is an interdisciplinary open platform enabling real time compositions, collaborations between international sound artists and live virtual performances to inhabit the space. Sensing Sound, we explore our basic and most human ability of listening through all our senses. By transforming the space into a huge resonating scape, with a super quality sound system, speakers set in various heights and forms, Visitors could wander around the sounds or rest on a huge acoustic hill, valuing navigation and stillness through sound. The installation was created in 2017 in Israel, as an interactive installation for the "Sound and matter" exhibition at the Holon Design Museum.
sensing sound captures the sonority of the familiar surroundings, of spaces of a city, amplifying them, resonating them around and in the visitors bodies, till they acquire a musical sound. The visitors are invited to feel the vibrations of the intimate sounds while seeing the sound through real time projection of themselves above. The reflective video, transforms the visitor's bodies into a point cloud image. The visuals react in real time to the sound and to the shape of the body. The visualization is set to examine the relationship between hearing individually through the ears and becoming a mutual group seeing the sound. When hearing high  tones the visual projected cloud of the visitor becomes dense while the  Bass sounds expand the cloud and the individual image of the self is melted into the neighboring seated visitors.
Collaborations:
We believe in an open sourced collaborative platform. Sensing sound invites local and international  creators to reflect on space navigation and sound and to write a site-speciphic piece inheriting the location, cultural context, movement of humans and sound and the designed space.
We seek to create real time compositions, virtual and real as well as reflect on familiar sounds or spaces in a new way.
Sensing Sound
Creators, Curators: Anat Safran, Lila Chitayat
Visualization coding: Gal Sasson, Speakers and spirit: Morel, Oren Mordechai
Sound Collaboration Artists: Gilad Kahana | I am the center of the square (beware of yourself first of all)  Sound Design: Daniel Anglister | Field recordings: Adi Har Zvi, Gadi Peter, Roy Rabinowitz, Dror Goldstein, Daniel Anglister | Singing and voices: Tom Darom, Rupert Huber | Piano forte has a day off and takes her high middle and deep strings to the museum, Daniel Meir | Image Remembrance, Giori Politi | Zoom in zoom out, Alon Peretz | Not the End, The Hazelnuts | Zero Space By: Yifeat Ziv | Sound Design: Gabriel Mendel | Singers-creators: Shira Z. Carmel and Anat Moshkovski | Text: Yael Gaulan. Ohad Fishof | Urban Fossils. Ilan Green | Hypertones, Construction: Sharon Schechter
Sound Consultant: Adi Platinov